Densmore Oil Company is proud to be the leading Bioheat® fuel delivery provider in Southeastern Connecticut and Southwestern Rhode Island. That means all the fuel that we deliver is a low-carbon blend of Bioheat Plus® fuel, which is stored and blended at our own on-site facility. Contact us to learn more about our Bioheat® fuel blend, fuel delivery options, payment plans, and more.
CALL FOR BIOHEAT® FUEL DELIVERY WHY CHOOSE BIOHEAT® FUEL?
What Is Bioheat Plus® Fuel?
Bioheat® fuel is an eco-friendly fuel that is compatible with traditional heating equipment and used in place of standard #2 heating oil. It's made by blending ultra-low sulfur heating oil with biodiesel to create a low-carbon liquid heating fuel that produces fewer emissions. The fuel you receive from Densmore is called Bioheat Plus® fuel because it has 20% biodiesel content. Blends of  Bioheat® fuel with higher biodiesel content, like ours, produce even fewer emissions and provide more benefits for our environment.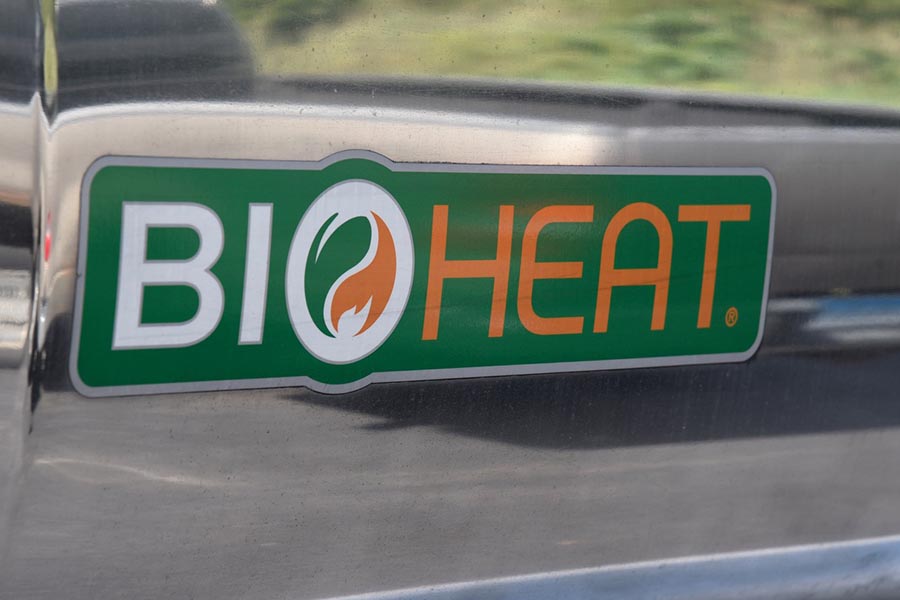 Have Questions about Bioheat® Fuel Delivery?
Check out our customers' frequently asked questions.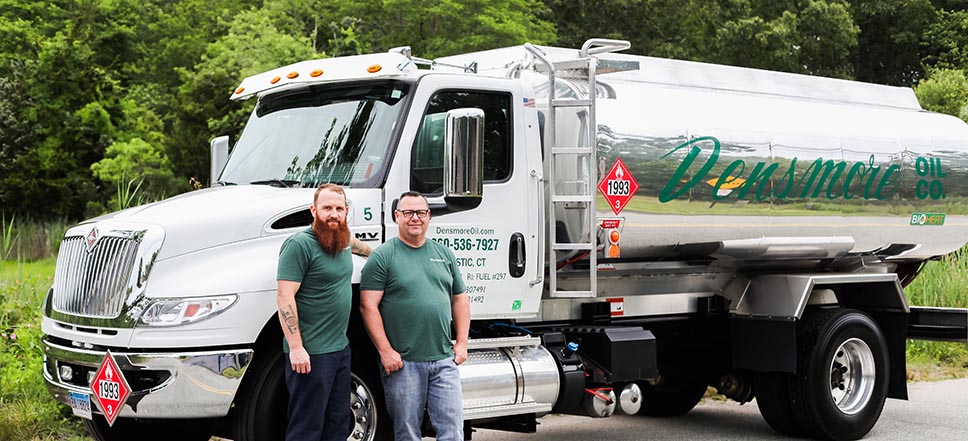 What Are the Benefits of Bioheat® Fuel?
When you heat your home with Bioheat® fuel you can feel good about filling up your tank. It is comparably priced to other liquid heating fuels on the market and requires no expensive equipment upgrades, so you can use it in your existing oil heating equipment! There are many reasons why homeowners and business owners prefer to heat with Bioheat® fuel:
Produces fewer emissions
Improves the operation of your heating system
Extends the life of your heating equipment
Runs more efficiently, which means reducing fuel consumption
Compatible with your existing heating equipment
Conserves more gallons annually than traditional heating oil
Every fuel delivery from Densmore is a Bioheat Plus® fuel delivery!
Automatic Fuel Delivery
Take one thing off your to-do list by signing up for automatic fuel delivery with Densmore. Our experts will monitor your account, tracking usage history and degree days to accurately estimate when you're due for a delivery. You can skip the stress of constantly checking your fuel tank and minimize the risk of running out of fuel.
Will-Call Delivery
If you prefer to monitor your fuel usage on your own, will-call delivery is a great choice. We recommend that customers check their fuel tanks regularly and request a fuel delivery from Densmore before their tank reaches ¼ full. That way, you'll have plenty of time to request and receive your order before your tank gets too low.
Budget Plan with Price Cap Protection
Over the course of 11 months, you will make monthly installments beginning July 1st of each year and receive our annual price cap protection benefits. This will protect your payments from price spikes on fuel and offer the lowest daily price when the price drops below the established cap level. You enjoy the predictable payments of the budget plan with added protection of your price per gallon. In addition, there will be credit of 1% interest (annualized) on your balance on the 5th of each month.
Budget Plan
Simplify your heating bills by paying the same predictable monthly fuel payment. This plan will be billed as monthly installments over the course of 11 months, beginning July 1st of each year. In addition, there will be credit of 1% interest (annualized) on your balance on the 5th of each month. The budget plan does not include price protection.
Prompt Payment Plan
If you prefer to pay on delivery, you can save with our Prompt Payment plan. If you pay your heating fuel delivery bill within 10 days of delivery, you can deduct 10 cents per gallon from your payment.
If you do not choose one of the above payment plans, full payments are due 30 calendar days from your oil delivery.
Military Discount for Home Heating Oil
Are you an active military member or a veteran? Please take advantage of our military discount, which is inspired by the Densmore family members who served in the military.