Your heating equipment plays a crucial role in keeping your Southeastern Connecticut or Southwestern Rhode Island home safe and comfortable all year long, so why not protect your system with a service plan? Choosing a heating service plan with Densmore Oil Company will provide greater peace of mind, knowing your oil-fired boiler or furnace will function properly during those colder months.
Our heating service plan includes your yearly heating system tune-up, 24/7 emergency service should you need it, the TankSure® Program's ultrasonic oil tank testing, and more valuable maintenance practices and repair coverage. Or, you can simply opt for an annual tune-up.  Whatever you choose, protecting your oil heating system will pay off in the long run.
---
Choose the Right Service Plan for You
We offer two options for heating service plans so that you can select the right level of protection that suits your budget and preferences. Check out our service plan offerings below to determine which plan is best for you. Please note, if you choose to enroll in a heating service plan with Densmore, you must contact us to enroll in your plan of choice before the time of service. Service completed before service plan enrollment is subject to standard charge for time and material.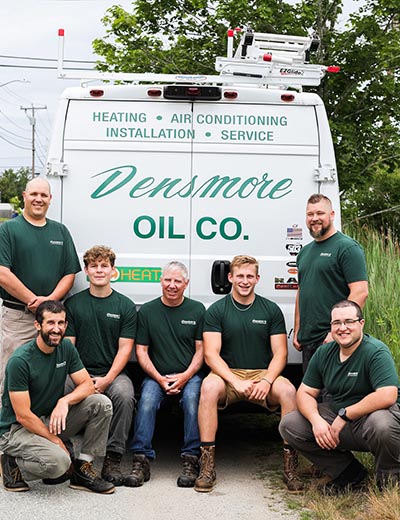 The Heating System Tune-Up Service Plan is more of our basic protection that offers various protective measures including:
Includes replacement (if needed) of nozzle, pump strainer, oil filter cartridge, and two standard filters up to 2 inches thick
Vacuum boiler or furnace and fuel pipe
Clean and inspect ignition assembly
Inspect and adjust controls and switches
Check pump pressure
Oil all motors
Efficiency test with tune-up
30-day warranty on parts and labor
Tune-ups are scheduled Monday – Friday from 8:00 a.m. to 3:00 p.m.
The Full-Service Heating Plan is our most valued protection plan and will ensure you're paying the best prices for your service needs, including:
Annual heating tune-up and safety check
Our Full-Service Contract provides labor on covered components 8:00 a.m. to 4:30 p.m. on Monday – Friday (excluding holidays)
Emergency labor coverage, for covered components on Saturdays from October 1 to April 30 from 8:00 a.m. to 4:30 p.m. (excluding holidays)
25% discount on covered parts
Regular hourly rate for after-hours service outside of covered times
30-day warranty on labor
1-year warranty on parts
Includes Densmore TankSure Tank Replacement Program, valued up to $2,000
Automatically renewed annually
Air conditioning service and air conditioning after-hours fees are not covered by this plan
Enroll in a Service Plan Today
Get protection at the right price. Contact us to learn more about our Densmore service plans and enroll in our plans today!
Have questions about which service plan will work best for you?