We are dedicated to keeping families comfortable throughout every season. Our reputation has become well-known throughout the Southeastern Connecticut and Southwestern Rhode Island areas for its accuracy, promptness, and reliability. If you'd like to schedule service with our amazing team of technicians, contact us today.
Take a look at some of the testimonials and media coverage below to see what our community is saying about us. In addition, feel free to write your own review or recommendation on our Facebook, Google, and Yelp pages.
What Our Customers Are Saying:
"Densmore Oil provided plumbing services to fix our shower head when it ripped apart from the wall and was leaking. They repaired the break quickly and efficiently and were very courteous and professional. I would highly recommend Densmore Oil for plumbing services." —Alexis W
"Have been a customer for 39 years. They have kept my business because they do the best job they can and standby service given. They maintain a set of core values that was established by Ray Densmore, nurtured by Mark and now upheld by Jamie. They understand commitment to quality and I can think of no else I would rather have helping me take care of the ones I love. Without any hesitation you should choose Densmore to be your heating-A/C service provider." —Henry B.
"We have been Densmore customers for 48 years. They were always on top of any issue we ever had, and they never let us run out of oil. From the office staff to the technicians to the company owners they are the best in the business." —Raymond A.
"Densmore has provided 30 years of service and never have I been displeased. Yesterday, the technician asked a number of questions about how it was running and I told him of the increasing noise. He found that the burner motor was on its way out. I authorized him to replace it and now my furnace is purring. Thank you!" —Lynn K.
"Top-notch service department and always quick for oil deliveries. I have had them for several years and have never had any problems. When you call Densmore the nice ladies on the other end of the phone are always very helpful and knowledgeable of my needs!" —Chris W.
"The entire team at Densmore Oil is professional and incredibly knowledgeable about the oil industry. Thank you for all you do for your customers." —Michael S.
"We all have to work together. Densmore Oil gets it. They do a bunch of other stuff [for the community] they don't talk about, but they're always looking out for people in need. Thank you!!!" —Mary H.
"We like the Phenomenal Aire! No issues and it is a great selling point to what we have done to add another layer of protection to our patients and staff." —Vince A. (Health Care Professional and Business owner)
"I've been very happy with Densmore Oil for over 25 years." —Daryl B.
"Reliable service and Reasonable prices" —Deborah D.
"Had Densmore Oil for 42 years in our last home, Just moved and we are staying with Densmore!!! Best customer service!!" —Chrystal K.
"Densmore Oil did our [ductless air conditioning] installation. They did a great job. The load calculation is spot on." —David S.
"We became familiar with the Densmore Oil Delivery Service the 8 months we lived in an New England AirBnb during the height of the Covid-19 pandemic. We were impressed by the automaticity of the service, efficiency of the drivers and the great boiler they maintained in the home. So when we bought a house closer to New London, we decided to patronize this excellent business. They participate in community in beneficial ways, donating time and goods to those in need. The technicians are articulate and top-notch. We took out the maintenance contract and were never charged for the labor and fair prices on the material used (the copper piping to the boiler needed to be changed to accommodate the tankless water heating needs). The job was done quickly and we've never run out of hot water ever again. We had a major power glitch and they never charged for a visit to show us the emergency switch (which hubby had distractedly forgotten). Densmore is a dependable, economical and reliable service with excellent customer care relations and attention to all business needs, We're glad to have them as our go to oil provider & boiler servicer. They're not at the bottom tier in pricing, but you get what you pay for in aces!." —Jeff and Sue
"I got stuck in a situation with my new house where the boiler went within the first couple months. I turned to Densmore to help me out and they were fair, professional, dependable, and helped me through the entire process. I loved working with them so much that I had them do a new boiler for my rental property as well. I would highly recommend them." —Ryan O., Mystic, CT
LEAVE US A REVIEW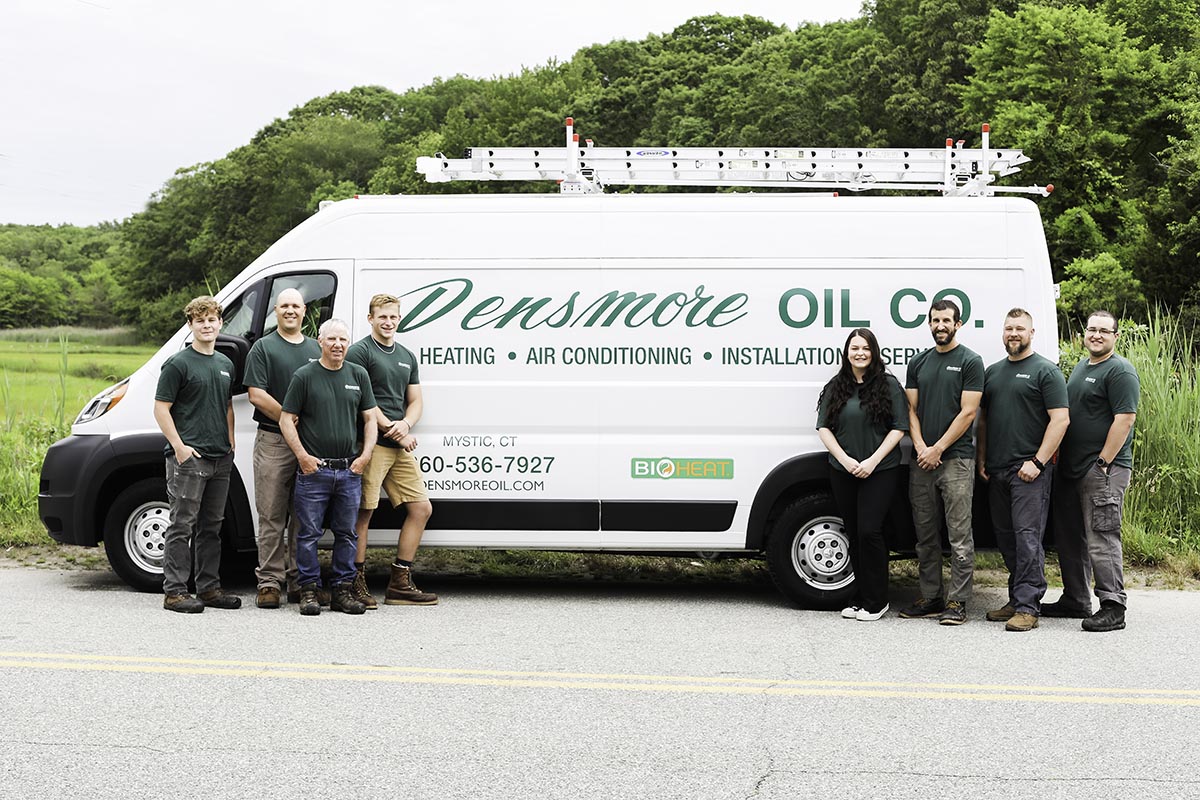 Densmore in the News
2022
2021
2020
2019
2017
2016 & Earlier